First, install the application from Zendesk Marketplace. To find out more about tariff plans, follow: How much is Telegramer?
Next, go to the application settings: Visit Admin Center >> Apps and Integrations >> Channel app >> Telegramer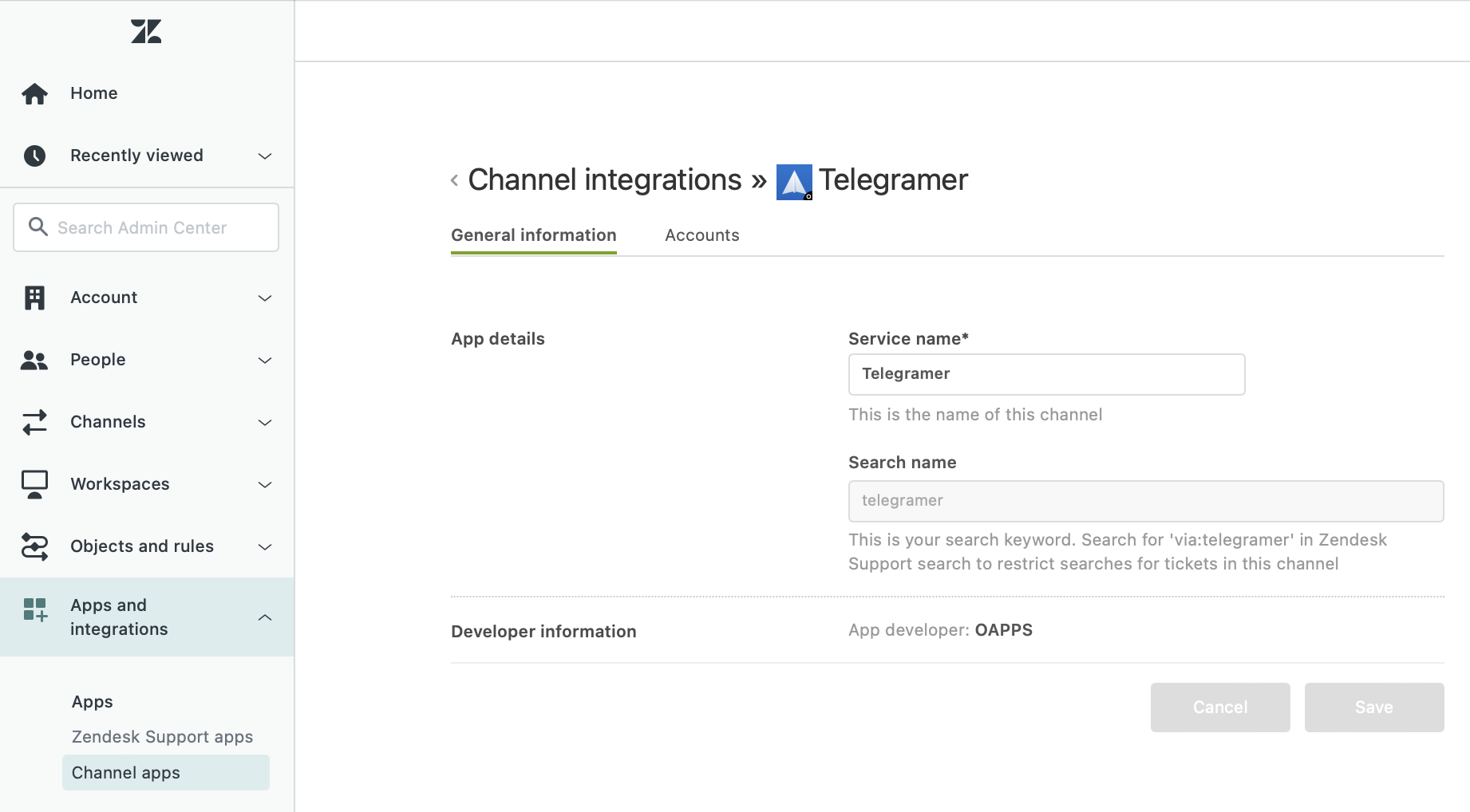 Switch to Tab «Accounts» and press «Add account»: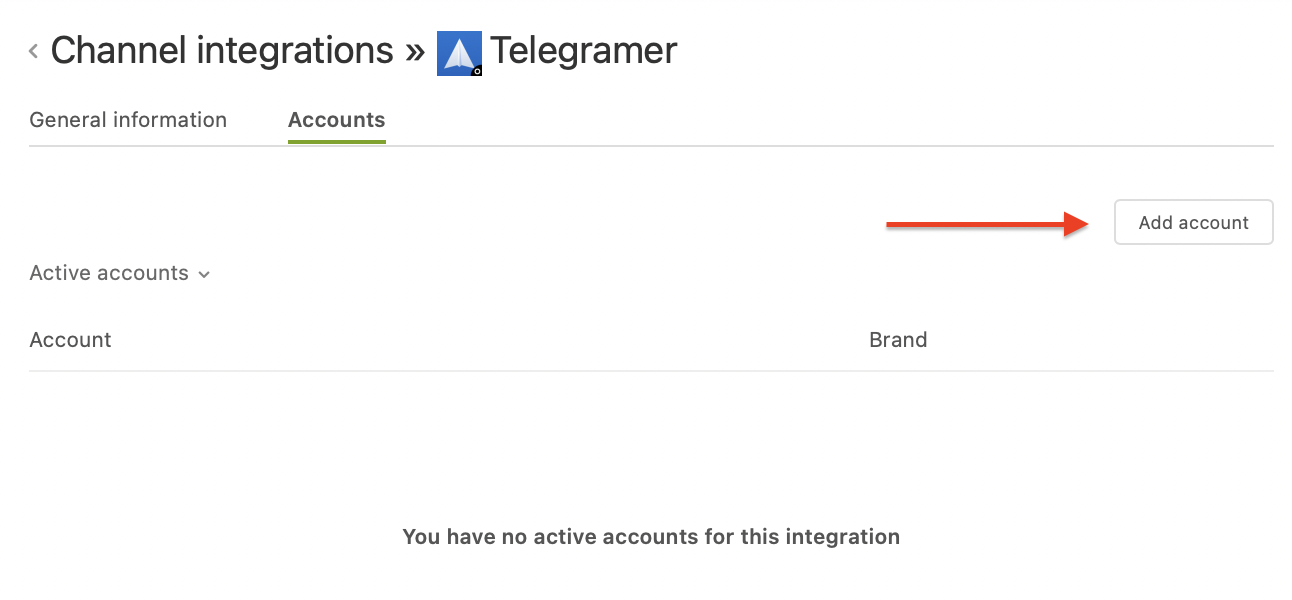 General
Fill in all required fields and click «Save».
Account name. Use meaningful names for account names. They can be used later to customize reporting and various rules
Bot token. If you have already created a bot for Telegram, BotFather has given you a token. Enter it into the field. If the bot has not been created, use @BotFather or read the article How to create Telegram-bot by @BotFather first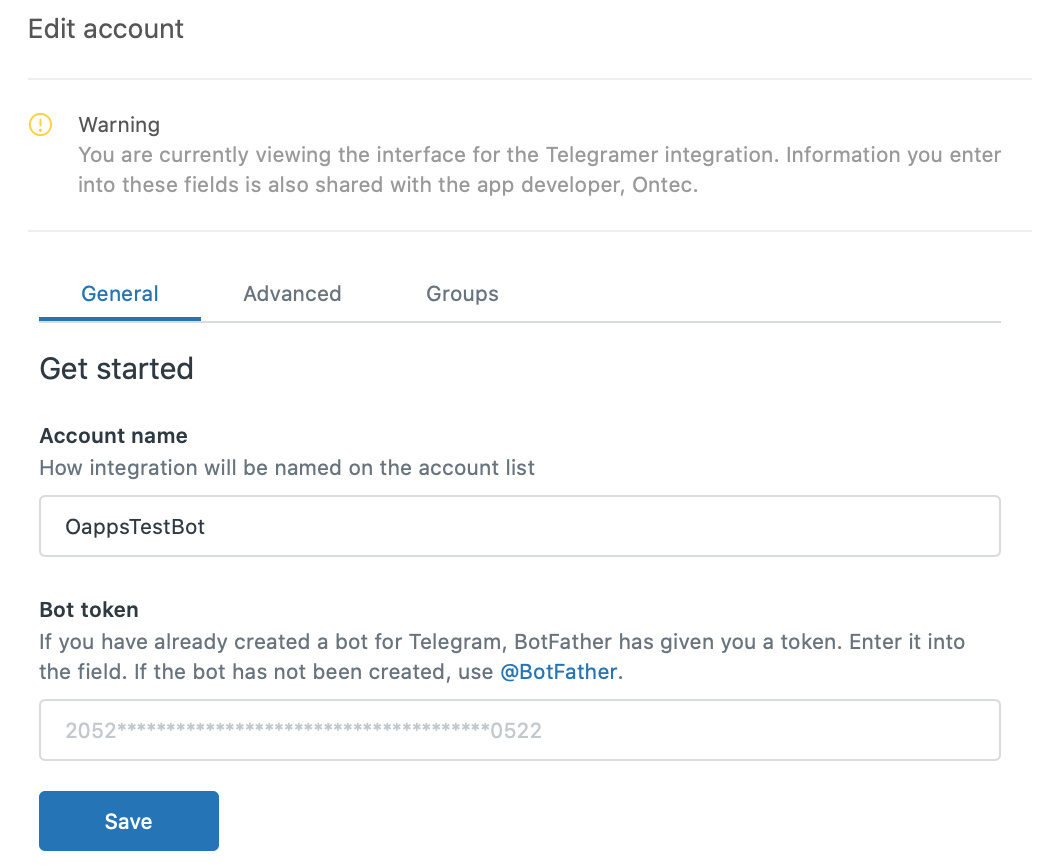 We have provided several additional options for configuring our application. Perhaps they will be useful to you. Switch to the Advanced Settings tab.
Advanced
Use tags for each account to configure the routing of incoming requests.

If you leave your e-mail address, the system will notify you in case of problems with the integration. For example, you changed the password for the Instagram account and the application no longer accepts calls. We will send you a notification and you will not miss messages from your customers.

Set the subject length and format. By default, the first client message is used as the subject of the request. If you apply these settings, then the topic will be added with a prefix [T] and the subject text is trimmed to the value specified as the «Ticket subject length».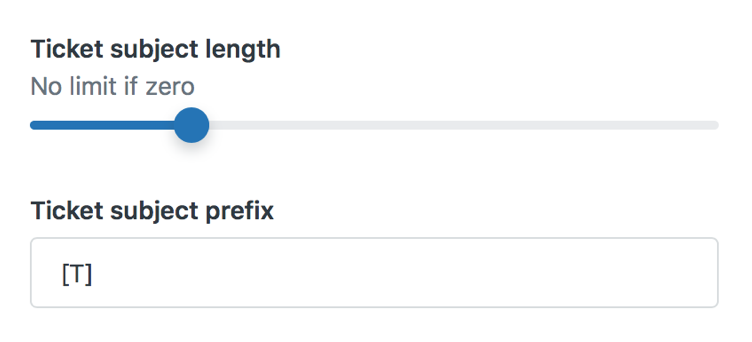 Group chat Settings
You can configure with @Botfather if your bot can be added to telegram group chats. All messages from the bot will create comments on tickets. You can change it here, so only @bot mentions and replies to bot comments will be added to tickets.

By enabling this feature you will be able to reply to a specific message in the Telegram. Use message id that you want to reply at the beginning of your message. More information here.

Greetings
You can set up a greeting message. A user who starts the bot for the first time receives the message

Request user phone before chat
This option will request your users to submit the phone number associated with the telegram account.

Set up a reply message
This feature allows sending a preset response after receiving a contact

Click on the "Save" button.
Groups
Once receiving new messages from Telegram groups, the list of groups to which the bot is added will be refilled. If you no longer want receive messages from a specific group, you can simply leave it. For more information read here.