Download and install private Zendesk app.
To make integration with WhatsApp follow the steps below:
Go to the application settings page: Admin home - Channels - Channel Integrations. Find the WhatsApper app and click on it.
Switch to the Accounts tab and click the Add account button.
Enter your company's name.
Open the WhatsApp application on your phone.
Tap dots ⠇ in the app's right top corner (Android) or Settings (iOS) and go to WhatsApp Web/Desktop.
Scan QR code on a WhatsApper page.
If the connection is successful, you will see this section: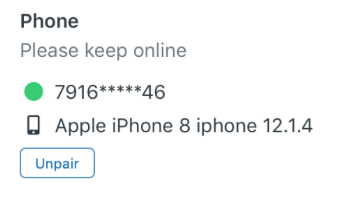 Additional details and restrictions
You should have a WhatsApp account.
Note: You can use a personal WhatsApp account for tests, but we recommend utilizing WhatsApp Business
Your phone must be online.
Note: We recommend connecting the phone to a charger, turning off the power saving mode, and other functions that may interfere with the application.