If you don't receive either Instagram DMs or comments (or both) to your Zendesk, please try the following:
Сrucial steps:
ake sure it is NOT a Creator or Personal account.
You can check that on Instagram.com by clicking Settings >> Account >> Switch account type
If you see only personal and creator options, it means the Instagram account is correctly set as Business. If not, switch to a business account.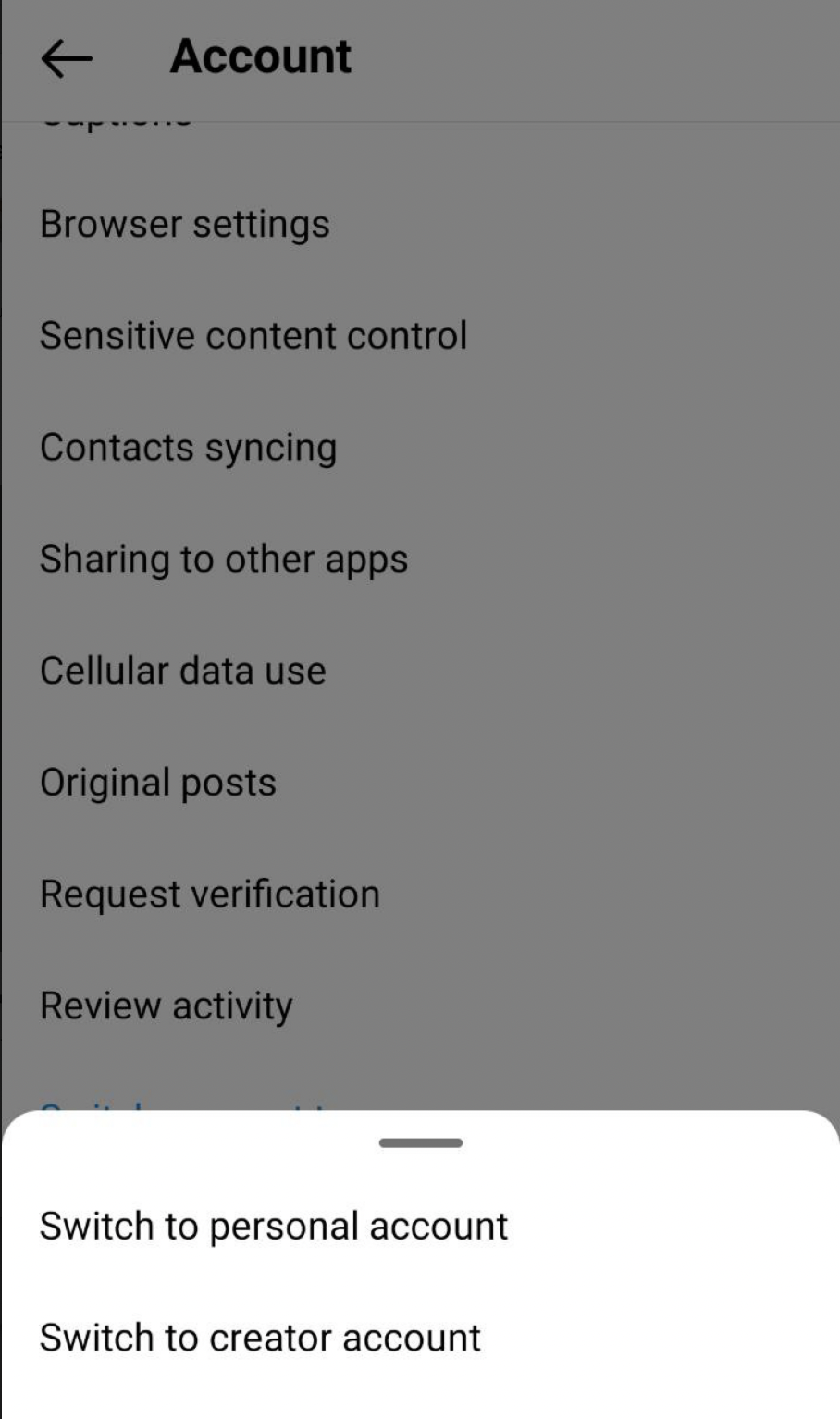 3. Each Instagram account must be connected to a corresponding Facebook page. To find out how to connect IG account to a Facebook page, follow this article: How to link an Instagram business account and a Facebook page.
The right connection should look the following way (Facebook page Settings&Privacy >> Settings >> Linked Accounts):

4. You should be an Admin of your FB page (FB Page settings >> Page Roles):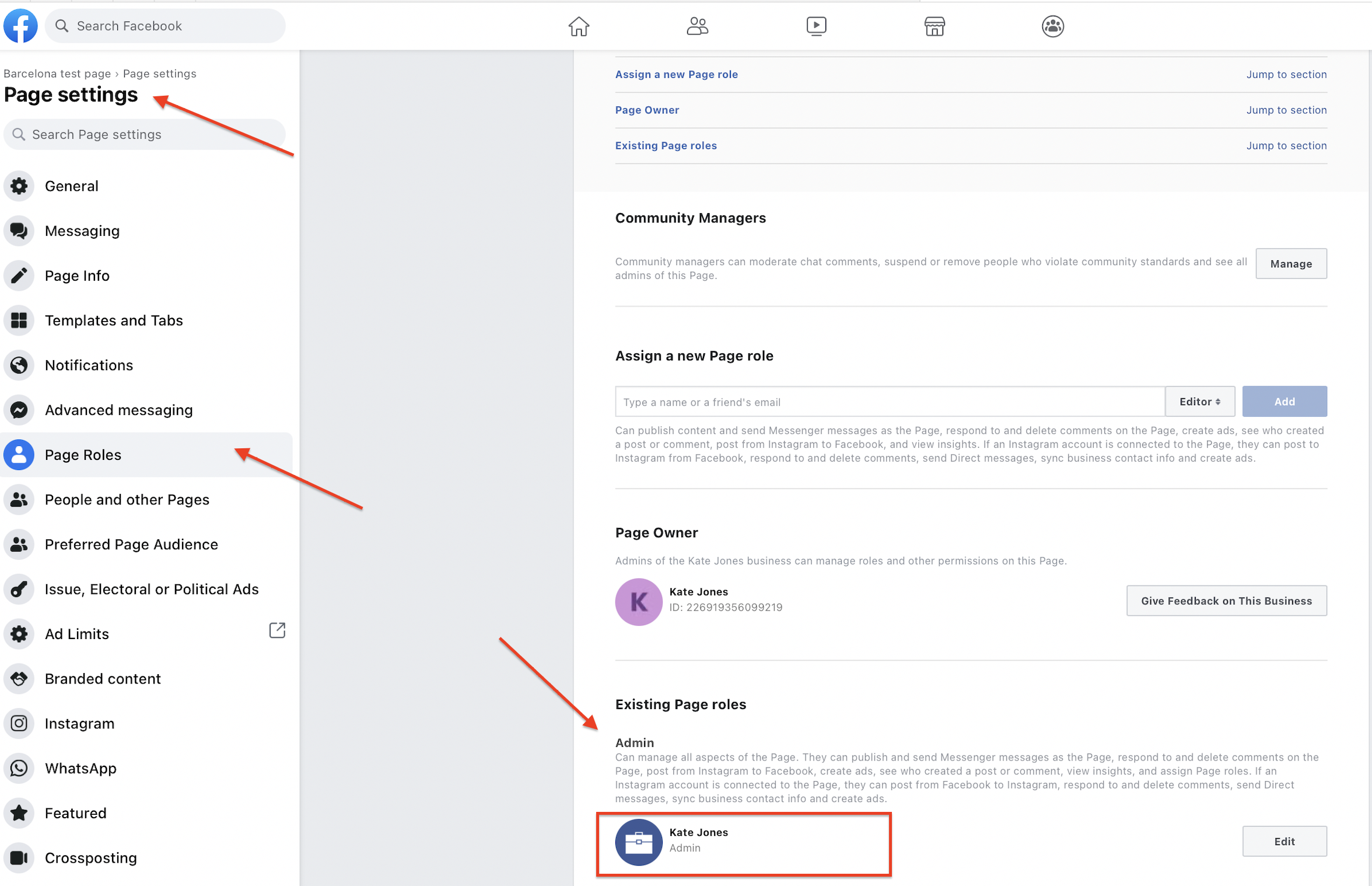 5. Visit your Facebook Business Inbox for the connected account and check whether you receive DMs and comments there.
For example, in Business Suite it looks the following way:

☝️If you do not receive DMs or comments in your FB Inbox, you should enable this feature, so that we could receive these messages on our end and pass them to Zendesk. Here're some articles that may help in this case:
https://www.facebook.com/help/772447486244207
https://www.facebook.com/help/1148909221857370
6. Check the Instagram account settings in Facebook Business assets and the permissions of the user who has created the integration.
Make sure full control is given and all permissions are granted: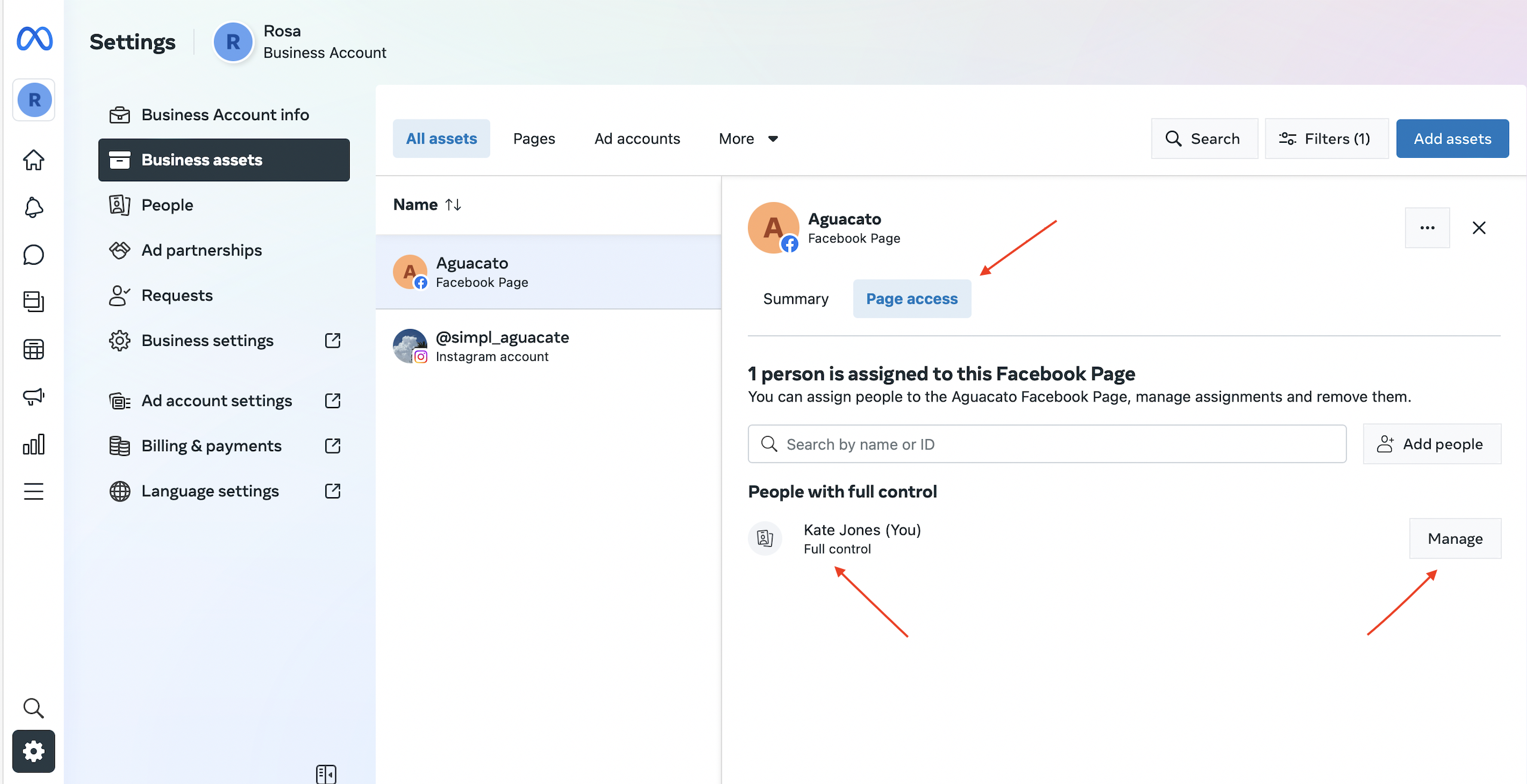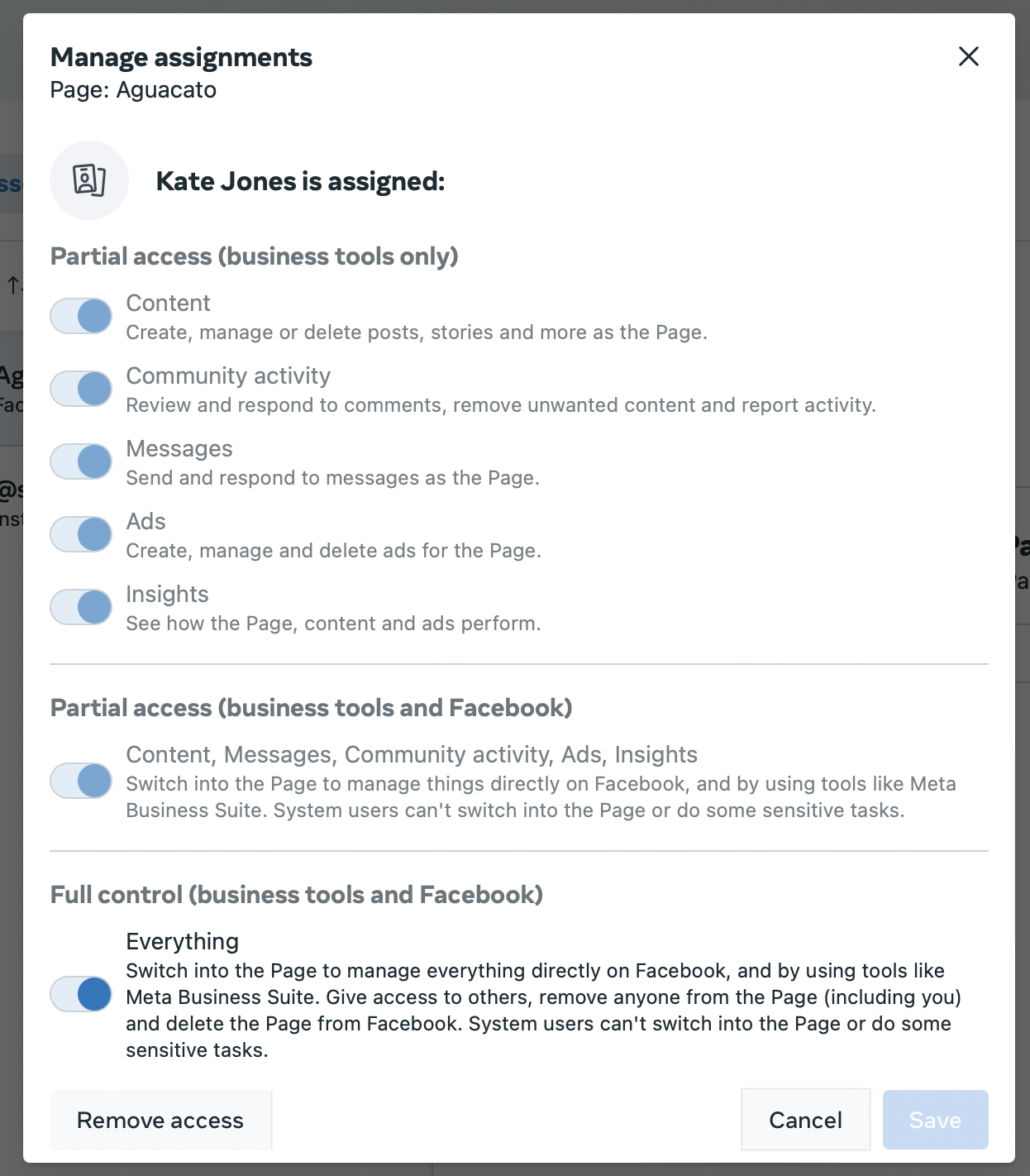 7. Visit Facebook Business Page settings and grant full permissions to the user who has created the integration: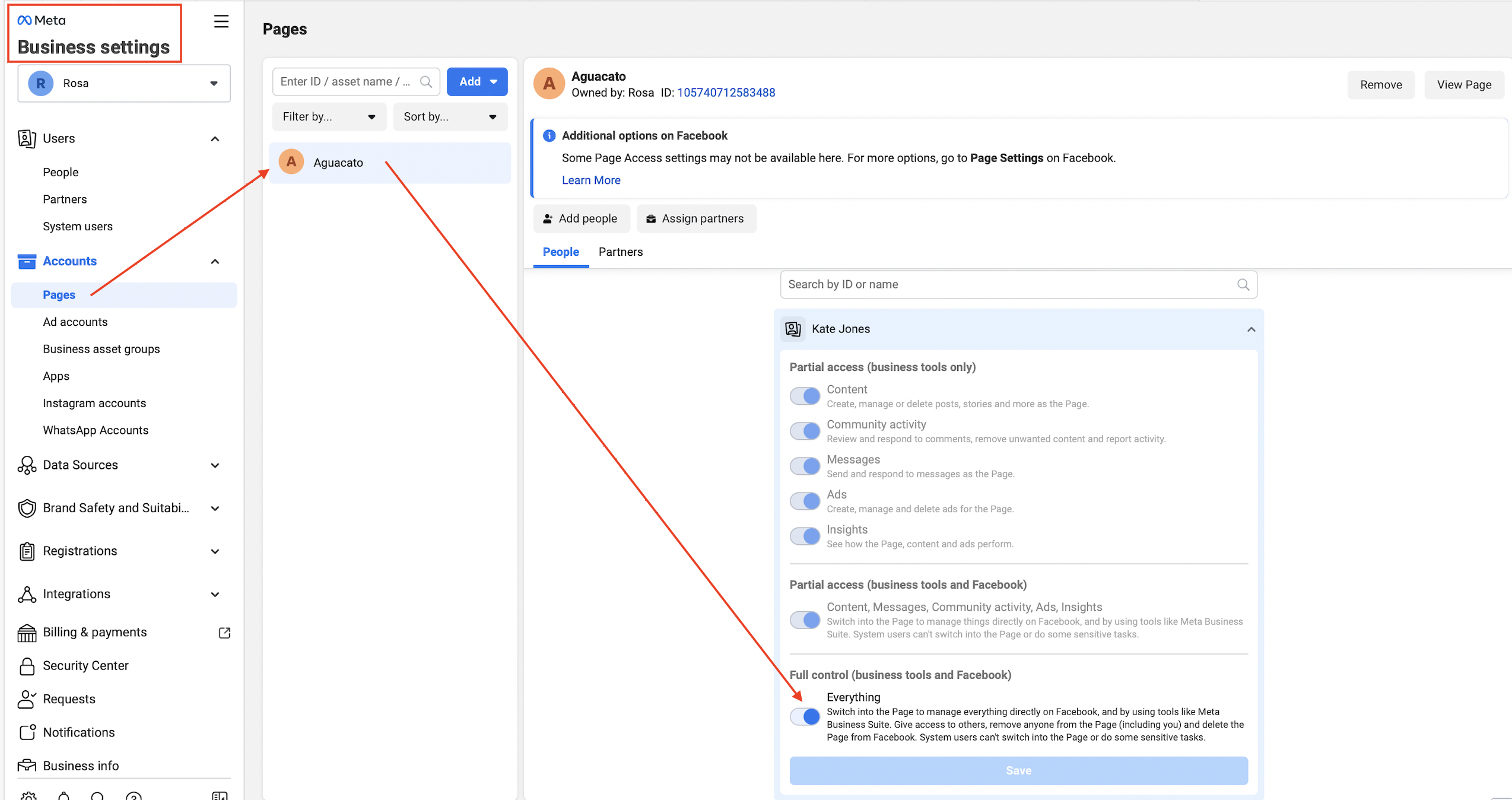 Check your account status
Visit the Instagramer Suite Accounts tab > click on the "Active Accounts" heading and select "Inactive Accounts" in the drop-down list: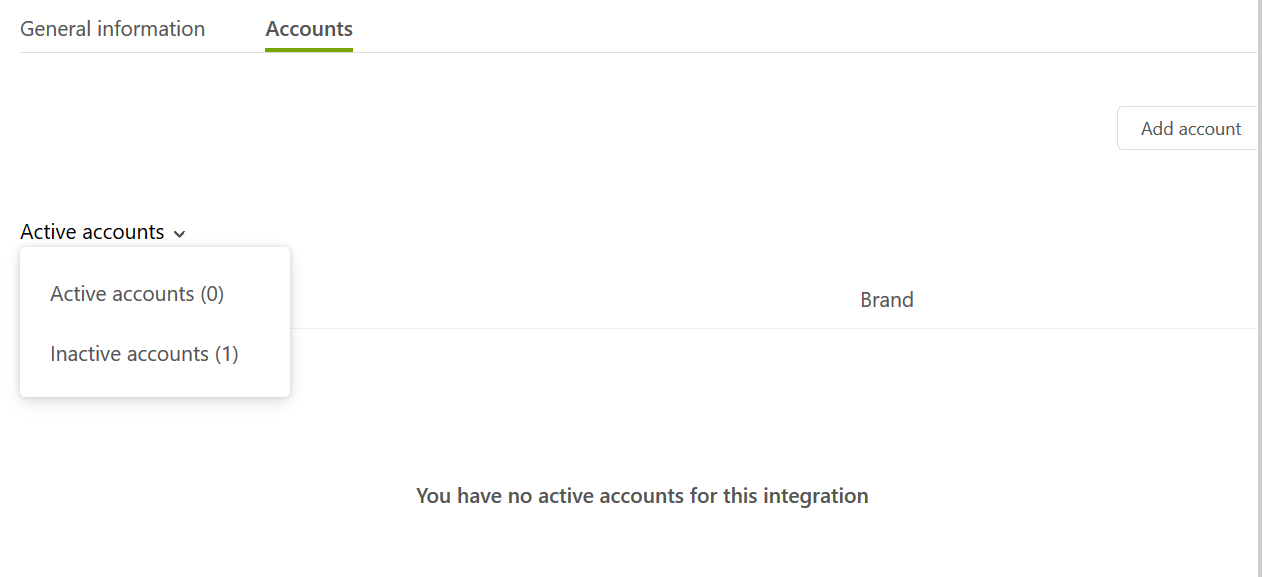 Ensure there are no accounts there, otherwise activate them - move the mouse cursor over the line with the name of the account and click on the icon that appears at the end of the line, select "Activate" in the drop-down list: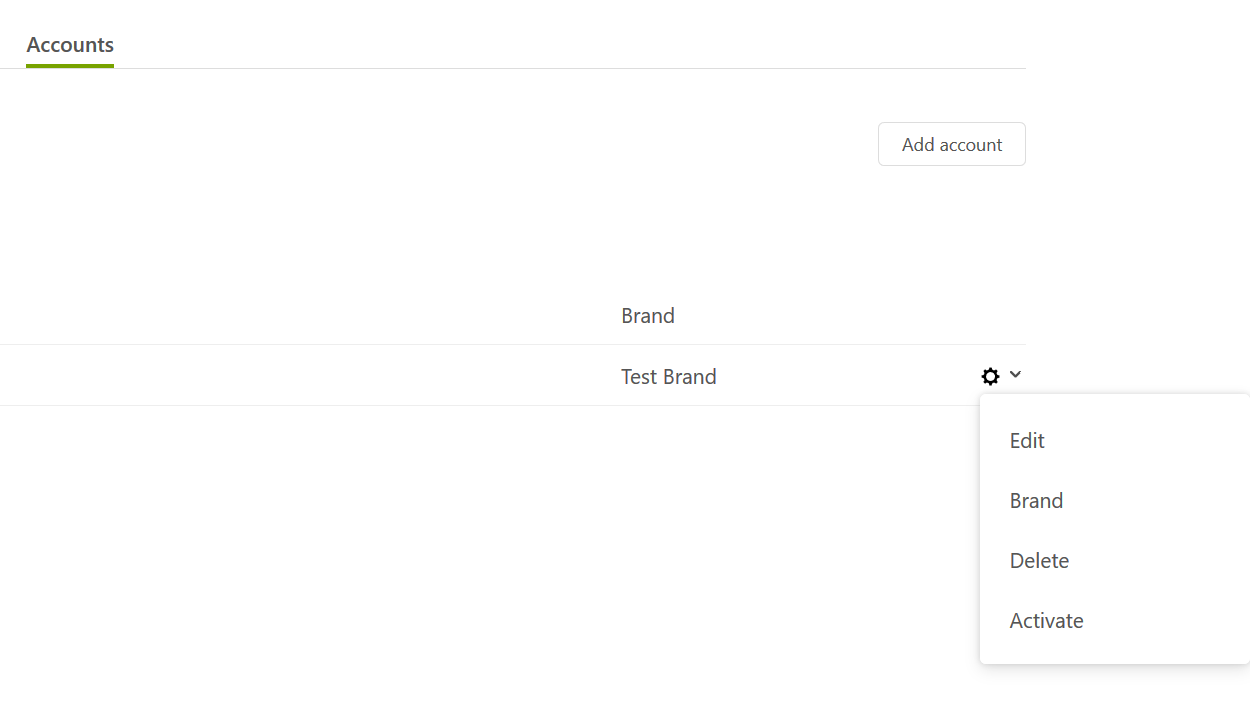 If the account is in the "Active" list, then ⬇️
Re-authenticate your Facebook page
Most likely our app is no longer authenticated to receive Instagram updates from Facebook. This can happen for various reasons. It's easy to fix:
A. Visit your Facebook Business Integrations settings (from you Facebook account select "Settings&Privacy >> Settings >> Business integrations) and next to OAPPS Suite put a tick and click on "Remove":

B. Make sure that 2FA is enabled for the user who connects the pages. It is necessary only if 2FA is also enabled on the business account. Find more info here.
C. Go to Zendesk Admin Center -> Apps and Integrations -> Channel apps -> Instagramer Suite -> Open your current account -> click "Continue with Facebook" ->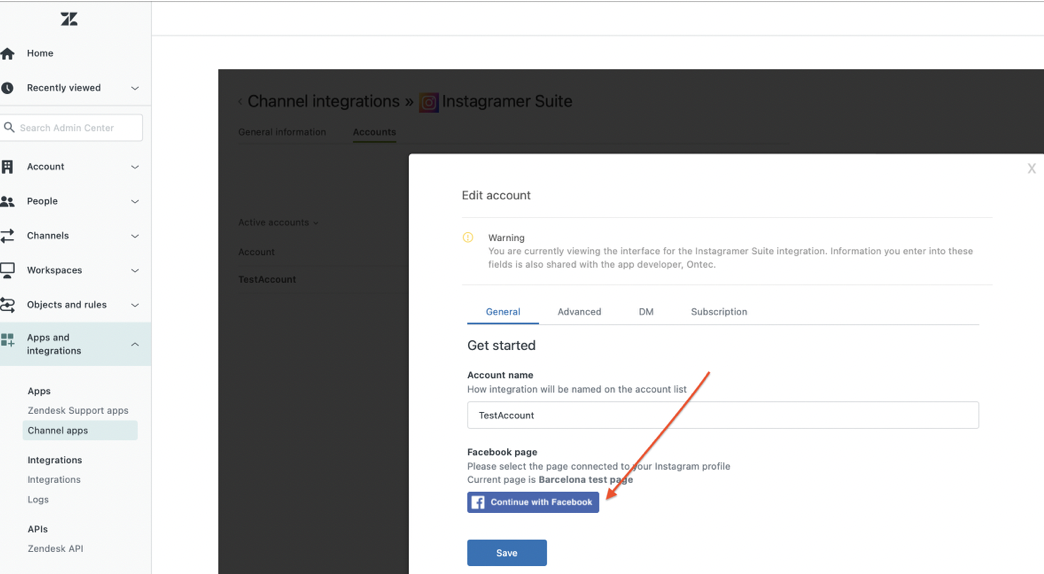 D. The Facebook page will open. Press Edit Previous Settings. (You can also log into another account if needed):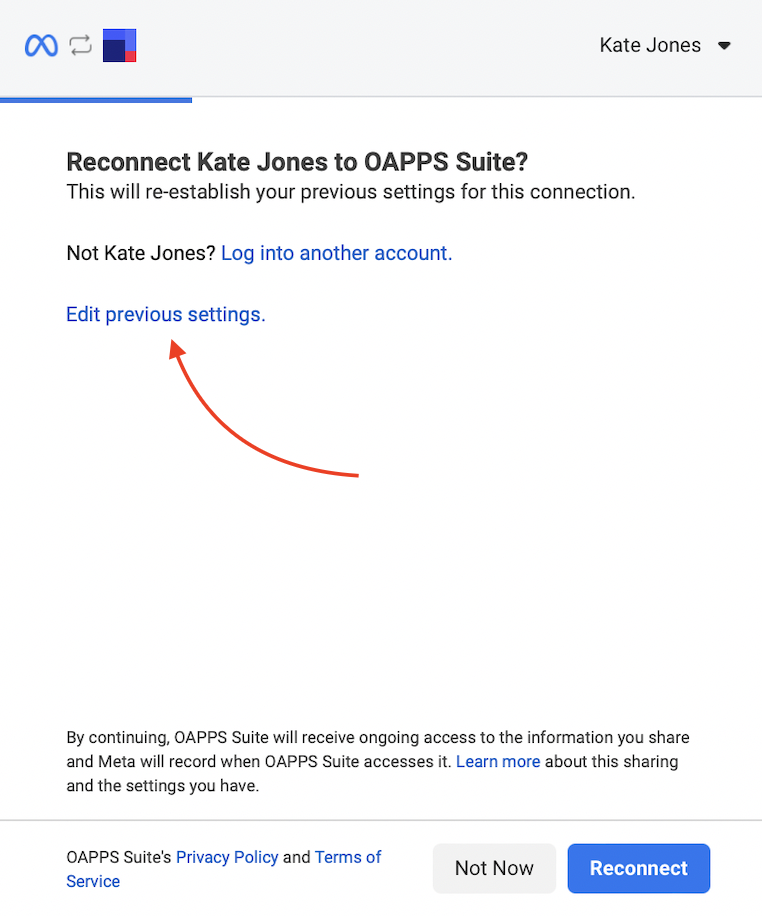 E. Select "Opt in to current Pages/Instagram Accounts only" and select all Facebok pages and all Instagram accounts you want to receive messages from, if you have more than one (meaning NOT just one currently re-authenticating):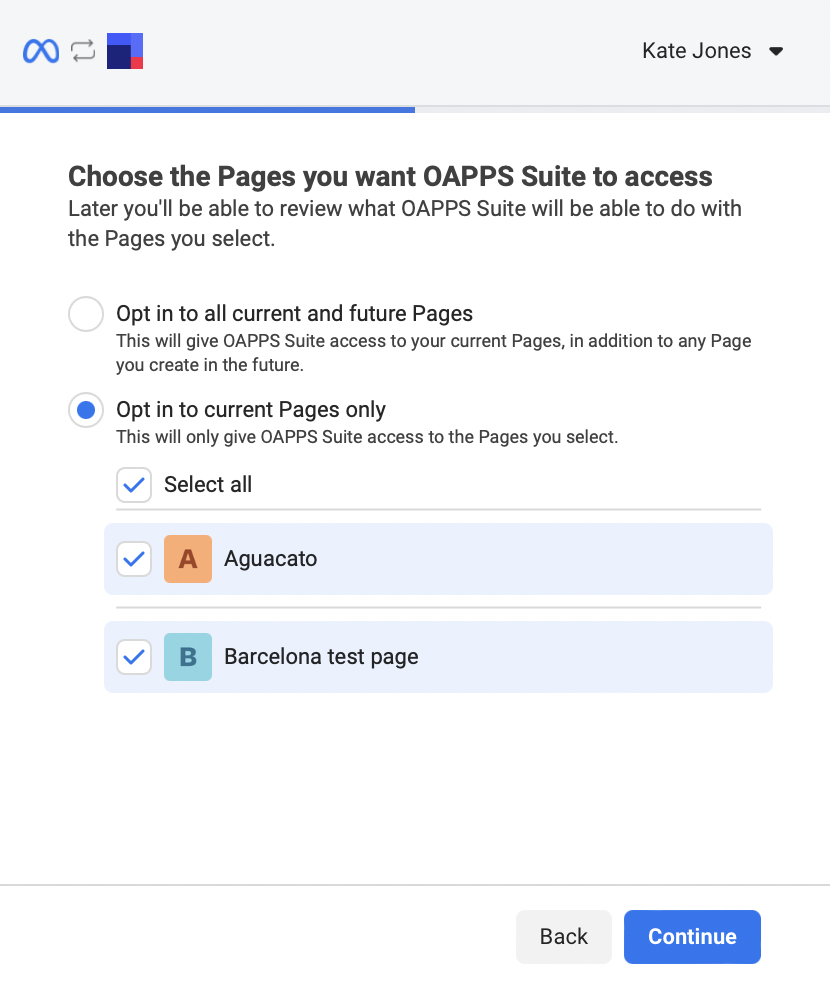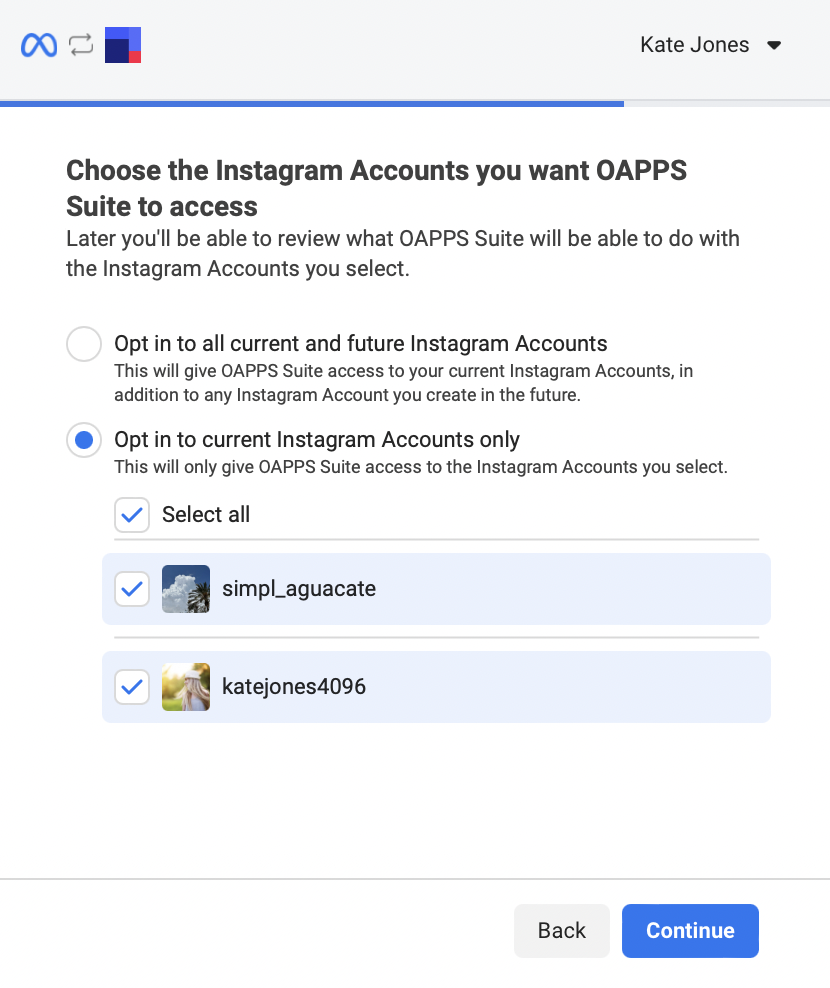 F. Confirm the granted permissions on the next step by clicking Save: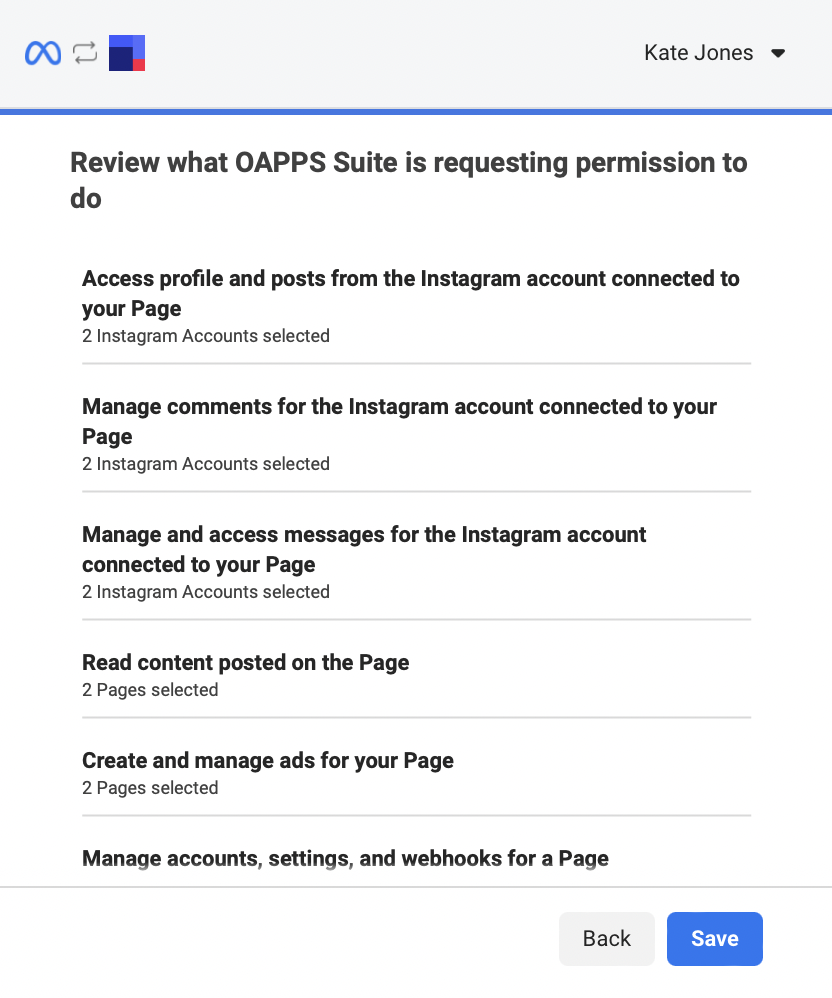 G. You'll be redirected to Instagramer Suite General settings. Select the FB page you are connecting from the drop-down list: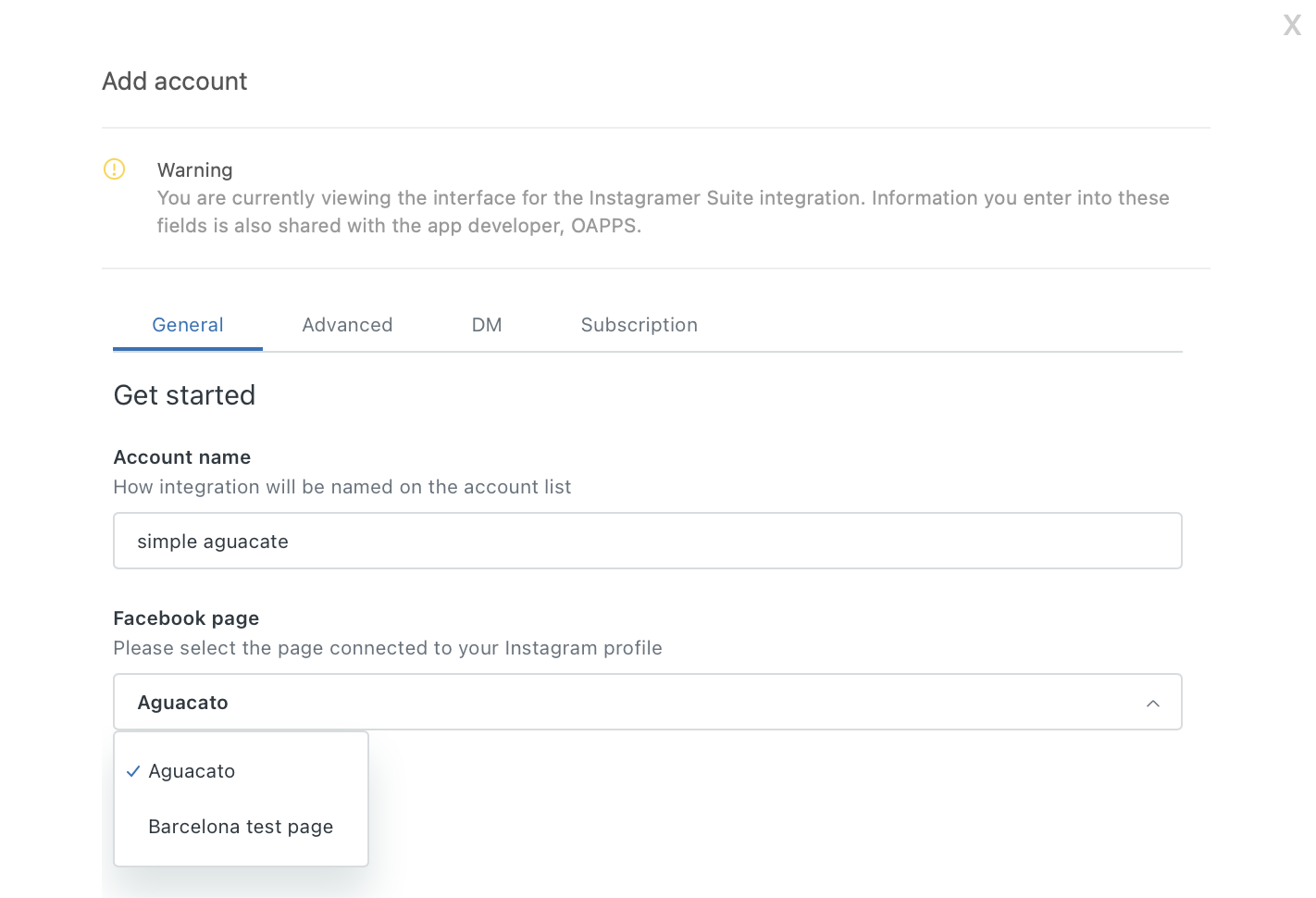 H. Don't forget to Save the changes.
Manage the same steps (starting from the C. paragraph) for another account (if there's more than one).
If you still see no incoming tickets in your Zendesk, please reach our support and share the steps managed. Any screenshots of the given access are highly appreciated!